Now that Christmas is past, and we've given all our gifts, I can finally share with you all of the stuff I made this Christmas.  For the past two years, in an attempt to not contribute to all of the consumerism of Christmas and, yes, save a little money, I've been trying to make as many gifts as possible.  It definitely adds a few more projects to my plate that one could argue I really don't have time for during the already-busy holiday season, but I really enjoy giving handmade gifts, and especially for those people on my list for whom it's difficult to shop, it seems more personal than just picking up an arbitrary gift card.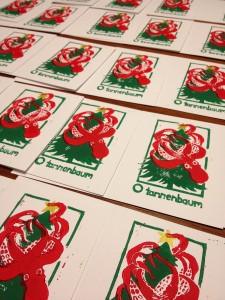 Let me start with my Christmas cards.  For the past several years, I've been saying that I'm going to make my own Christmas cards.  Inevitably, I run out of time, and I end up picking up whatever Edward Gorey cards I can find at the Penn bookstore.  Don't get me wrong–I LOVE the Edward Gorey cards–but they end up being a little pricey, and I've thought it might be fun to make my own.  You may remember from an earlier post that I linocut printed a bunch of tandem bicycle holiday cards.  I considered printing up a bunch more for myself, but instead my overachiever gene kicked in, and I decided to waste a day by carving two more blocks of linoleum into the delightful Christmas kraken you see here.  Nothing says "Merry Christmas" like an octopus molesting a tree, right?  (This little exercise also made it clear that I need to build myself a little printing press.  My wrists were pretty tired after I got done printing all of these up.)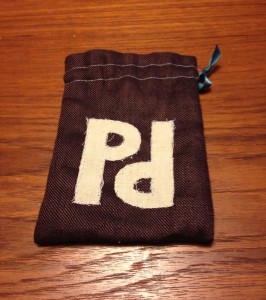 I especially love when I can give handmade gifts that someone actually asked for.  This year, my uncle asked for a little drawstring pouch to keep 15 marble-sized pea pool balls in.  (Don't ask me how you play pea pool–I have no idea.)  Since my uncle's initials are PP, and the game's initials are the same, I thought it would be fun to customize the bag that way. (Contrary to what Ben might tell you, I did not put the elemental symbol for Palladium on the bag.)  I made it from fabric and ribbon I had on hand.
My sister had asked for something a little more elaborate–a reclaimed wood chalkboard from Urban Outfitters.  For this one, I enlisted Ben's help, since reclaimed wood's his jam, yo.  We put together this little beauty one afternoon (shown side by side with the original from Urban).  I like it so much, I kind of want to make one for myself.  Not to brag, but ours is actually better because the dimensions are a little larger, leaving more room for messages.  That little mason jar on the left (filled with green paper) holds chalk for the board.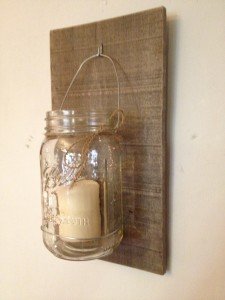 After we made the chalkboard from the reclaimed pallet wood, we decided that the pallet wood could be repurposed in a different way.  We also had a bunch of mason jars left over from our wedding that have been collecting dust for the last year.  So we made up a few of these wall sconces.  They could hold candles or flowers or just about anything else you can think of.  We were psyched to hear (see) that Ben's cousins like them so much that they hung them in their dining room right away (below).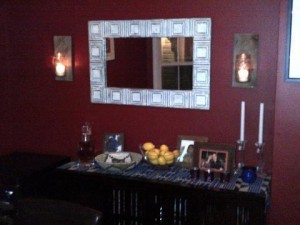 While we were at Ben's place, I noticed that the dill at the farm had been going crazy, and although Ben routinely had been bringing large quantities of it over to my place, there still was a bunch more that hadn't been hit by frost yet.  It seemed like it was just crying out to be made into some sort of a Christmas gift, so I picked a bunch of it and puréed it with olive oil and salt into a festively green dill oil that I then named "Philly Dilly Oil."  (Aren't I clever?)
This brought to light the fact that it is insanely difficult to find cheap, small glass jars.  (Who knew?)  There is a fortune to be made by someone who goes into this business.  Thanks to a suggestion by my clever friend, Elle, who blogs on her food exploits over on Nomology101, I solved the problem by picking up a bunch of baby food, emptying the jars, and repurposing them.  However, the downside is that, because I hate wasting food, I now have 36 oz. of Gerber pureed bananas in my fridge.  Anyone getting their tonsils out soon?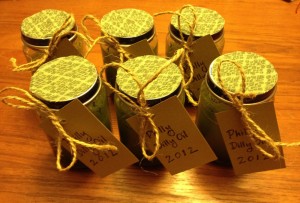 After a very crafty friend of mine gave us a super cute stuffed bird ornament last year for Christmas, I was inspired to make my own this year.  Again, I went to my stash of fabric, as well as some old, worn-out jeans I'd been saving, and sewed a bunch of birds using this easy(and free) pattern from Philly-based Spool. I would not, however, recommend using denim if you're going to attempt this.  It was really hard to turn the bird inside out after I was done sewing it.  The bird's neck created a bottleneck.  (Ha.)
And finally, while I was sewing things, I decided to make a couple last presents.  I've had this really beautiful burnt-out velvet that I purchased from The Resource Exchange while I was planning our wedding.  It never got incorporated into the wedding decor, but it's been waiting for just the right purpose.  I found this great pattern for a little pouch over on Noodlehead, and it seemed like the fabric was telling me it wanted to be made into a dressy little clutch.  I made one for my aunt and Ben's aunt.  I was so happy with them when I was done, I think I will probably make one for myself.  You could use it for all sorts of things–jewelry, cell phone, barebones wallet.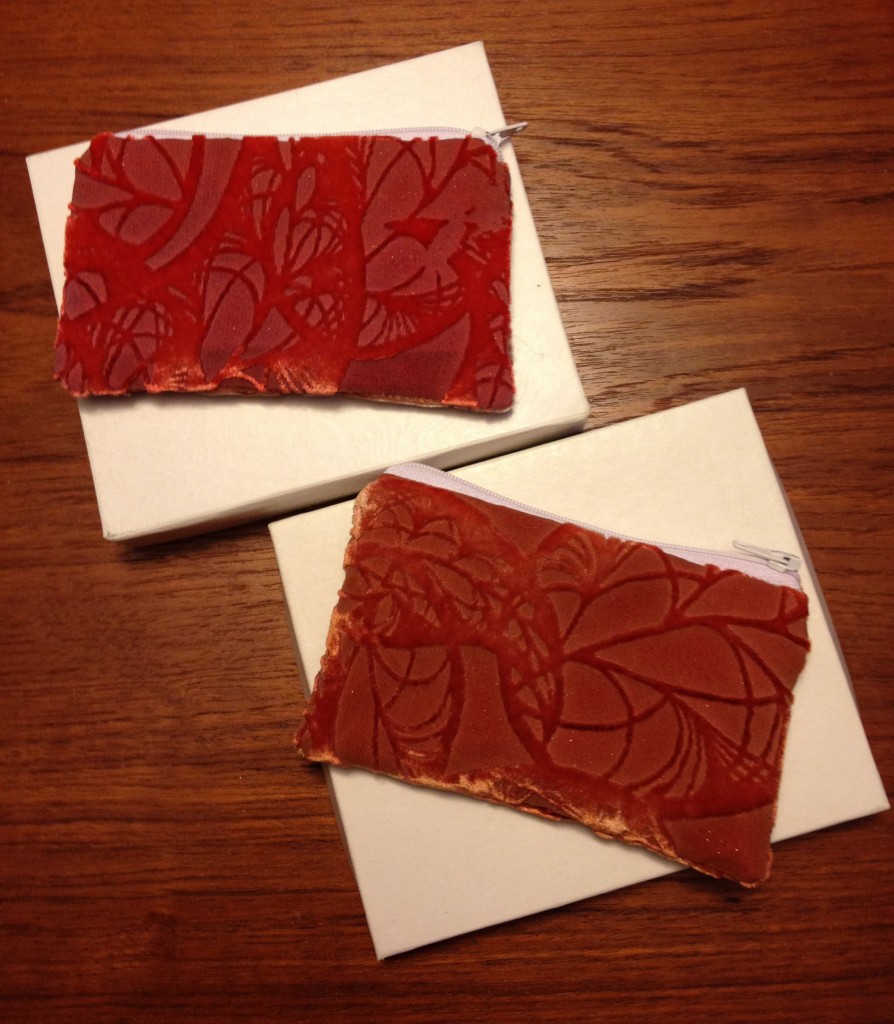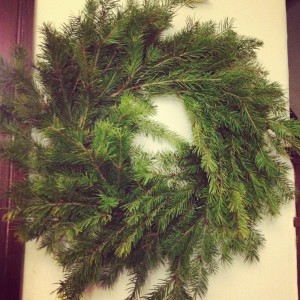 The last thing I want to share is one of the wreaths I made.  It wasn't intended as a gift, although no sooner had I posted a picture of it on Instagram than my sister asked if she could buy it from me.  I gave it to her instead on the condition that she returns the metal frame to me when she's done with it.  I hadn't attempted to make a wreath before, but it kills me every year to spend $15 or more to buy something I was pretty sure I could make from Christmas tree cuttings.  On our way back from dinner with a friend, we passed one of those random guys on a street corner in West Philly selling trees, and I asked if I could have some clippings.  He said I could have as many as I could carry for $5.  Sold.  Seems like just about the right price for two wreaths.
I hope you've enjoyed my little round-up of holiday crafting as much as I enjoyed making the gifts.  Now if you'll excuse me, I need to get started on 2013′s gifts.
ADDENDUM: I neglected to mention that in the midst of this, I also finally managed to finish our wedding album, which ended up being another gift made by us, although it was printed by Blurb, which may just be my new favorite online publishing company.  If you're interested in checking out the album, you can view it as an ebook on Blurb's website.