Although Fall is my favorite season, I do love Winter because it makes me feel okay about taking some much-needed time to relax at home and do projects for myself.  The cold weather somehow gives me permission to stay inside, sip tea, read and make stuff.  I don't feel the pull of yardwork or gardening or frisbee or summer festivals, and I find myself looking inward and reflecting on how I want to start out my new year.  I've almost always counted on this time to accomplish a few projects that have been on the back-burner, such as launching this very website last January.  I know that the Spring thaw will pull me back into the realm of outdoor activities, so for now it's nice to have some quiet time in the house.
This weekend, my plan was to make curtains for my back bedroom/Ben's office.  Okay, really my plan was to make a curtain for that room since I didn't have enough material for two.  (But that's okay, I'll get more.  Please, twist my arm…do I have to go to Fabric Row again?)  I had a spare curtain rod in the basement, so I set to work on Saturday sewing the curtain. I finished it up and went to hang it only to discover that I had somehow misplaced the mounting brackets that accompanied the curtain rod.  This wasn't totally shocking in that the last time the curtain rod was actually mounted was two houses ago in 2005, and I feel like this is pretty much the story of my life.  I finally get fired up to start a project, get most of the way done, and then discover that I'm missing some critical component that will prevent me from finishing the project that day.  In my life, it's inevitable…and it's infuriating.
Since finishing the curtain wasn't really in the cards for Saturday, I resigned myself to the fact that I would be sewing again on Sunday, which wasn't an altogether unpleasant thought.  So I started thinking of other things that I could also sew on Sunday as long as I still had the machine out.
I've been amassing random items from The Resource Exchange for quite some time now that seem useful and are just waiting to tell me what they want to become.  One such item was this paper-backed swatch of upholstery fabric.  It was long and skinny, and all it had been saying was "bookmark," which I was summarily ignoring because, let's face it, who really needs one more bookmark?  Then, all of a sudden, one day it changed its tune and said (in a Julia Child voice), "Dearest Samantha, won't you please make me into a business card case?  I would be ever so grateful."  (Okay, so maybe I made that last part up, but whatever.  I promise I don't hear voices.  Usually.)
So on Sunday, I made this cute little business card case out of the upholstery swatch.  I used a button I had on hand and some elastic cord to make the closure.  I've been using different bags lately, and it's a hassle to continually transfer all my stuff from bag to bag, so I'm psyched to have an extra case to keep in one of my other bags.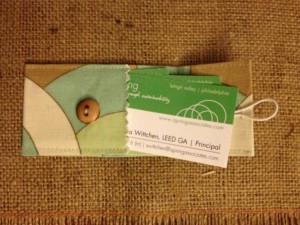 I have a bunch of other stuff that I've been wanting to make for a while, and since I'm done with my Illustrate 2012 project, it seems like it might be nice to have another monthly goal for myself.  So I've decided to launch Sewing Sunday.  I'm going to try to set aside one Sunday a month (and perhaps if my schedule won't let me swing a Sunday, it'll end up being another day) to sew.  Now that I have a more dedicated location for my sewing machine, one of my goals has been to sew more.  Plus, I figure the only way I'll get better at sewing will be to do it more regularly.  Of course, I'll share my sewing exploits with you on this here blog.
As for that curtain I started, I did end up finishing it after a trip to Lowe's to buy new brackets.  (And by the way, who knew that curtain rod brackets were so damn expensive?  I got the bottom-of-the-line ones, and they were still $4.97 apiece!)  I am pleased to share with you my finished curtain.  I really love the old wood casings in my house, so I decided to hang it so that you can still see the casings.  I love how the orange complements the blue walls and ties the room to my office (which is painted orange and you can see through the doorway).  And hopefully my guests will feel a little more comfortable now that they can't see directly into Mr. Willie's house (or vice versa).
So please join me on my Sewing Sunday trip, either on the blog or by sewing some stuff on your own.  I can't guarantee that all the stuff I sew will come out as planned, but regardless, it'll be an adventure!