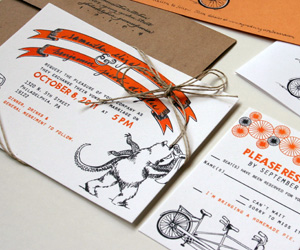 Weddings. They're kind of a big deal.
Whether you're going super DIY or pulling out all the stops, your invitations are the first glimpse your guests have into what your wedding is going to be like, and they're your chance to showcase your style and vision for the big day. Why not make your invitations as unique as the two people getting married?
My goal is to create invitations (and save-the-dates and other wedding stationery) that feel genuine to you and bring delight to your guests. Weddings are often one of the few events in people's lives where they have an opportunity to interact with a designer, and my job is to make sure that experience is easy and maybe even fun!
I'm located in Philadelphia, but I work with couples anywhere who are looking for something different–something that feels most likely handmade, maybe quirky, possibly whimsical, but always true to the couple getting hitched. If that sounds like you, drop me a line and let's chat!
The Process
The process begins with a complimentary design consultation to chat about your inspiration, theme, colors, and pretty much anything else you're excited about.  I know it's often difficult to organize all the ideas you may have, so my job is to visualize your ideas and help them take shape.  If you're not sure how you want to organize your invitations (What size and shape are you thinking?  RSVP postcard or regular card?  Do you need an info sheet?), I can help you figure that out, too.  The consultation can happen in person, by phone or over e-mail.
Once I have a better idea of the scope, I'll provide you with an estimate for your project.  If you decide everything's cool, I require a 50% deposit to get started.  In a couple of weeks, I'll have an initial (black and white) concept or two for you to review and provide feedback on.  From there, I'll refine the design and add color.  You'll receive a PDF mock-up of the design to review and provide feedback, and once you approve the final design, I'll send it off to the printer. The remaining 50% is due when the final design is sent to the printer.
The whole design process generally takes about 4 to 6 weeks, but it may differ depending on the complexity of your project.  You should allow another 3-4 weeks for printing and delivery.
Pricing
Every project is different, so pricing will vary from project to project depending on the complexity, but I can tell you that it typically won't be less than $700 for the design work, even if you're a DIYer. (See next section, "As Little or As Much Help As You Want.") Printing costs are extra and will vary depending on the quantity and type of printing method.

As Little or As Much Help As You Want
Depending on your budget (and how hands-on you like to be), I can be flexible with how much I do versus how much you do.  For example, some couples like to make their own info sheets to save money, and some don't want the hassle of extra work.  The following are some typical profiles of clients, but I will customize the level of support to your particular needs.
The DIYer
Maybe you like adding your own personal touch, or maybe you want to print the invitations yourself to save money. If this is you, I can provide you with the design in a print-ready file, and you can take care of the rest, whether that's printing it, purchasing the envelopes, or adding extra design elements.
Prices start at $700.00.
The Standard Fare
Perhaps you'd rather not be troubled with making arrangements for the right printer or ordering matching envelopes. I'll take care of finding the right printer for your job (whether it's digital, offset, letterpress, screen-printed or some other process) and purchasing coordinating envelopes or other packaging. But you can still take care of stuffing and addressing the envelopes to your guests.
Prices start at $1000.00.
The Kitchen Sink
When you want all the bells and whistles with none of the hassle, I can help with it all. This includes printing, assembling the invitations, stuffing envelopes, adding unique design elements such as stamps, block prints, seals, or ties, and addressing the invitations. And I'll even do it with a smile.
Prices start at $1600.00.
Selected Samples
Want to see some samples of recent work?  Click on the images below for more details, or visit the Wedding section of my portfolio.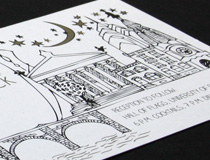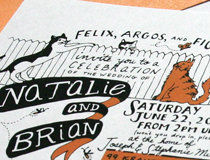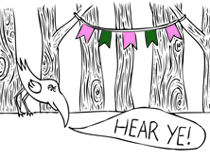 What Else?
Interested in other handmade details, like linoleum block printed thank-you notes, hand-drawn and lettered wedding certificates or handmade wedding favors?  I can help with that, too.  Just ask!