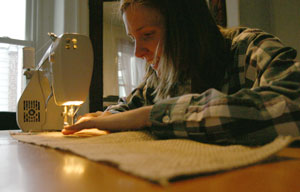 Hi. My name is Sam.  Or Samantha.  Or Manfa if you're my two-year-old sister and you can't pronounce a "th" sound.  I like to make stuff. I've been making stuff ever since I was a kid. When I was going through my Ghostbusters phase in elementary school, I made my own P.K.E. Meter out of cardboard. I was that kind of kid.
At age 9, my parents enrolled me in art classes at The Baum School of Art, and then I made drawings and paintings.  Unknowingly, I was setting a precedent for what I thought was a good way to spend my time.  When I got older, I started making stuff for other people–not just drawings and paintings, but other things, too.  For the past 8 years, I've been creating marketing campaigns, building websites, and sewing handmade promotional packages (see picture on left).  In essence, I've been living the life of a freelancer and entrepreneur, spending my time making cool stuff for a select group of happy clients.
I came to design from an unlikely path, having studied music at the Eastman School of Music before completing a mechanical engineering degree at the University of Virginia.  Of course, my degree tells me that I am extra qualified to make Really Cool Stuff, and I plan to share that Really Cool Stuff with you on this site.  In addition to making Really Cool Stuff, I enjoy making the world a more sustainable place.  You might find me out and about doing just that through my consulting firm,
iSpring
.  You also might find me in the pages of
Grid Magazine
or on stage performing with my band,
The Wittchen Initiative
.
And when I'm not doing one of those things, I'm probably riding my bike, playing frisbee or drinking a beer.  Catch me if you can (most likely in the vicinity of Philadelphia), and maybe I'll make something for you.