For about a year now, I've been wanting to sew myself an apron.  I've been increasingly interested in the idea of the apron as a metaphor for domesticity, as well as what appears to be changing attitudes about what domestic life means to women.  I feel like so many professional, well-educated women I know (myself included) are also really embracing the trappings of homemaking, choosing to spend time cooking, sewing, baking, decorating and generally making their homes these inviting, beautiful places–all the while finding enjoyment in these domestic tasks while maintaining professional careers.  These same women also seem to frequently have an apron they love to wear and talk about as if they are extensions of themselves.  While watching Mad Men last winter, I was thinking a lot about the apron metaphor (as Betty Draper so frequently wears an apron at home), and it really made me want to have my own apron.
So yesterday I finished March's Sewing Sunday project–an apron.  Yes, I know it wasn't Sunday, but in my defense, I had planned to sew last Sunday, but then my body was under assault from some mighty nasty allergies.  So instead, I spent last Sunday sleeping and watching season 3 of Breaking Bad on Netflix.  Since we had plans to see my grandfather today for Easter, yesterday had to be the day to sew if I was going to get the project done by the end of March.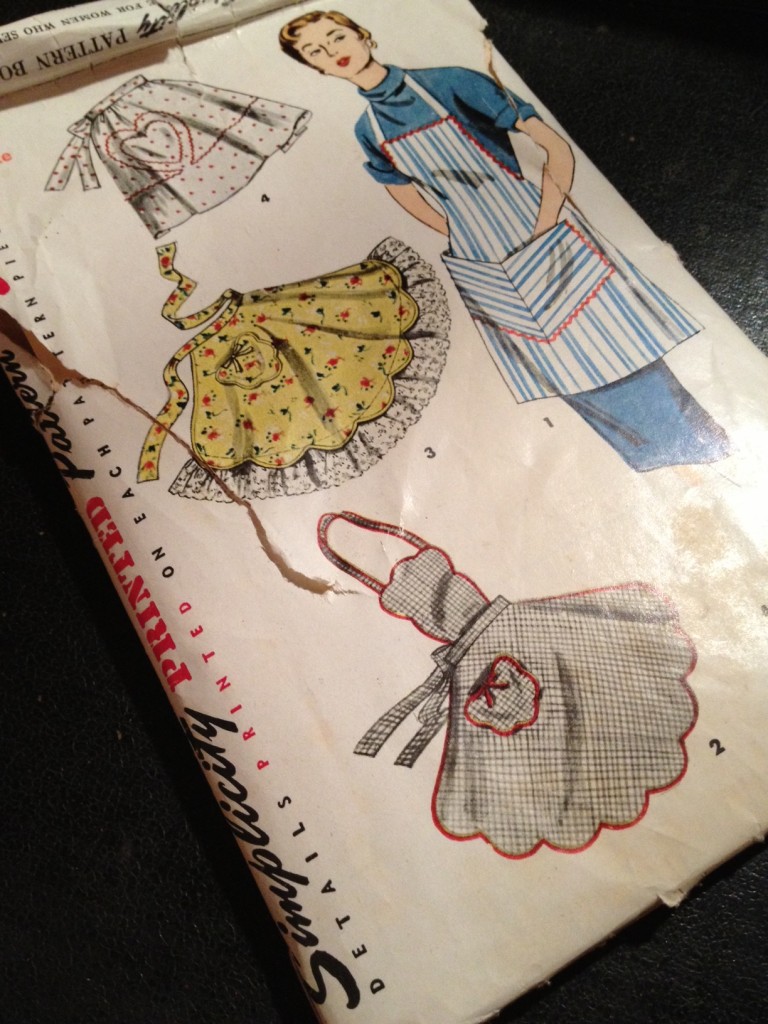 Part of the reason this project had been in the works for so long was that I was struggling to find the right material.  I had actually found a vintage pattern I liked thanks to the stash of my grandmother's patterns that now reside at my mom's house.  My plan was to make the pattern on the bottom.  But the finding the right material was tricky.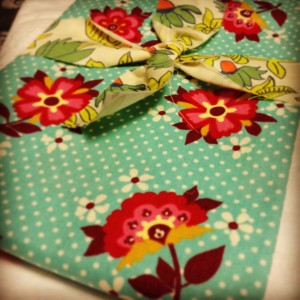 I wanted something that looked suitably retro and domestic, and for a while I thought I was going to use the snail material I ended up using in last month's sewing project.  I finally found the perfect material from designer Liz Scott, who happens to be the wife of a good friend of mine from secondary school.  The line of fabric was even called Domestic Bliss, so I knew it was meant to be.  I ordered the fabric shortly after the new year from her Etsy shop, and I could not have been more excited when it arrived.  It really was perfect.
Earlier in March, I cut out the pattern so it would be ready to go on a day when I had a little more time to sew.  My mom gave me a cutting mat for Christmas, which has already exponentially improved my sewing life.  I made use if it for this project.  It's so nice to no longer be concerned with scratching my dining room table when cutting out fabric.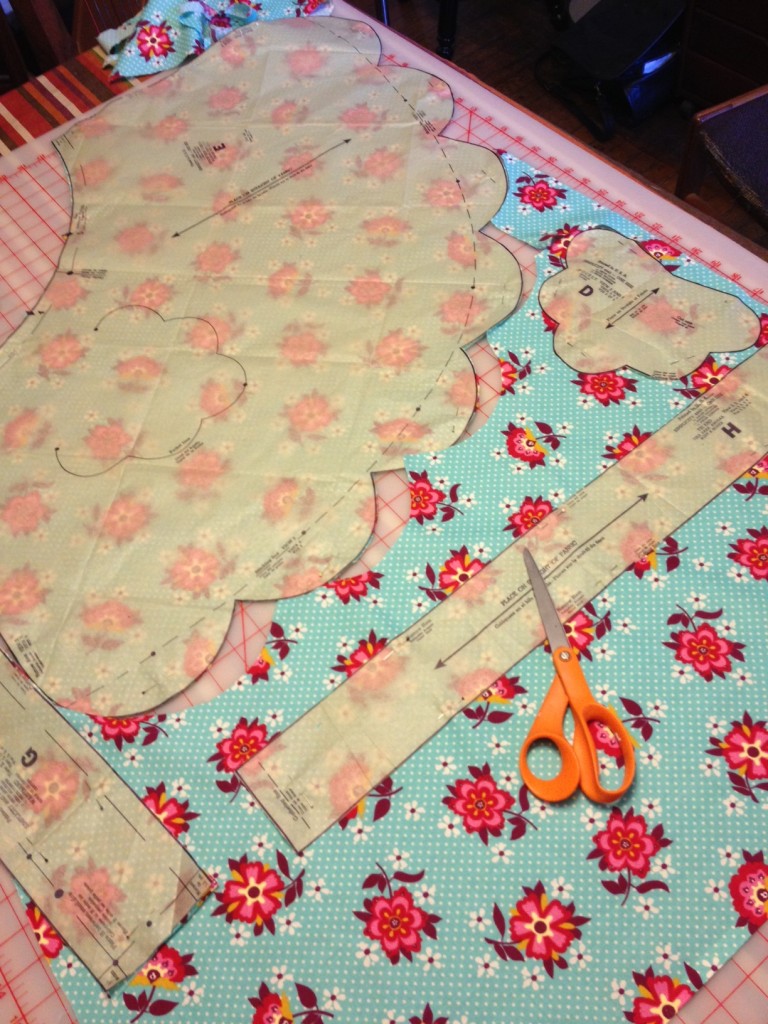 As you can see, the apron has a bunch of curves, and the pattern called for bias tape to be used to finish the edges.  I had never worked with bias tape before, but after watching a couple online tutorials and consulting my mom, I figured I could handle it. I started with the pocket, on which the curves are pretty tight, so that made it trickier, but I figured that if I really screwed it up, I could just not sew the pocket onto the apron, and it wouldn't be the worst thing in the world.  Not surprisingly, I did end up sewing the bias tape on the wrong side of the pocket to begin with, which required that I rip out the sewing, but in the end, it all worked out fine, and I was able to salvage the pocket.  I am now a bias tape goddess.  Or something.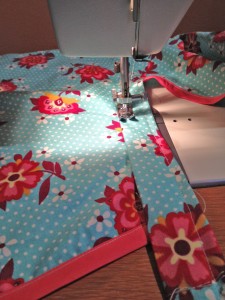 Assembling the apron itself wasn't all that difficult, but attaching the bias tape did take me several hours.  Thank God for NPR's weekend programming.  This apron should really be dedicated to American Routes, Marketplace Money, Wait, Wait! Don't Tell Me!, All Things Considered, and the majority of A Prairie Home Companion.  I was in the home stretch–sewing the waistband–when Ben arrived home at 7 p.m., and I realized that I had been sewing for 5 hours straight.  Sometimes I worry that I'm losing my ability to focus and concentrate as I'm getting older.  Then I'll have days where I'm utterly shocked to find that I've spent the last 5 hours devoted to a single task.  It's then that I worry less that I'm losing my focus and instead worry that I've been picking the wrong things to spend my days doing.  I think that, in an ideal world, all my work would be as all-consuming as this.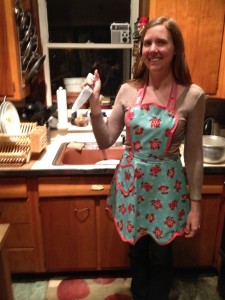 I wrapped up sewing just in time to make dinner (and model the apron)!  I'd be lying, though, if I told you I took the apron on its maiden voyage last night.  It was just so pretty that I couldn't bear the thought of soiling it only minutes after I finished making it.  Maybe tomorrow will be the day when I'll have enough courage to become the domestic goddess I'm meant to be!