For quite some time I've known–and from time to time have worked with–a man named Ray, who is quite possibly one of the most amazing people I've ever met.  Not only does he have an encyclopedic knowledge of mechanical and industrial engineering, but he holds numerous patents, has a wonderful sense of humor and until recently, commuted back and forth from the Jersey Shore to Bethlehem, PA on a weekly basis (at what must be about the ripe old age of 90) to continue to do engineering work at Lehigh University.  This is a man who has devoted his life to problem solving and seemingly greets each day with the excitement of having another opportunity to design, to improve and to invent.  It's quite remarkable, really.
The other thing you should know about Ray is that he doesn't have e-mail or really use the computer.
This last point has, admittedly, caused me some frustration over the years, especially when we are working on projects together.  Although invention (and presumably, technological progress) is very much part of what makes him who he is, it seems to me that he longs for the days when phone calls and face-to-face conversations were how business got done.  I would bet that if I asked him, he would say there's no replacement for real, live human interaction.  And that is part of what simultaneously confounds me and endears him to me.
So when he approached me about doing some design work for his latest invention, I knew that the process was going to have to work differently than it usually does for me.  It was going to be decidedly analog.
Ray's latest invention (for which he has a patent) is a garden weeding tool.  It works pretty simply, utilizing simple mechanics to gain leverage on the roots of weeds and pull them out.  Ray decided to nickname the tool "the groundhog."  In order to market test the tool, he decided to have a short run manufactured, and the tools would need tags and stickers.  That's where I came in.  Ray asked me to come up with a design that would feature a groundhog holding his new tool that could be used for both the tag and the stickers.
So I started out like I usually do, researching and sketching.  I came up with three options for the groundhog (see below).
I sent them via e-mail to one of the students working with Ray, and he kindly printed them out for Ray to review.  Ray liked the first one the best but wanted to refine him a bit, so after a little tweaking, the groundhog was revised.  He also had a name now–Gus.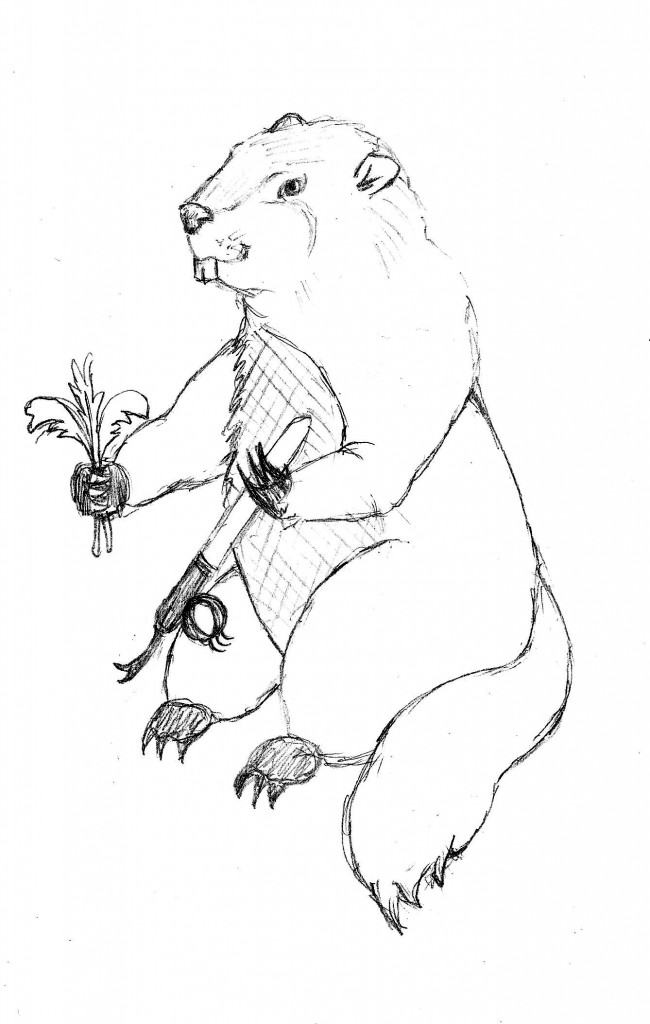 The project stalled for almost a year and a half as Ray worked on finding a suitable manufacturer in China.  I would receive periodic phone calls from Ray about the status of the project, as well as his own status (after all, he's elderly and lives alone), and each time he would assure me that the project would get moving again once they found a suitable manufacturer.  His assurance was completely unnecessary, but it was very sweet, nonetheless.
At the end of 2012, I got a phone call from Ray saying that he had found a suitable manufacturer, and he was ready to pick the project back up.  He had a few requests about the size and shape of the tag and sticker, and I made note of them.  Shortly after the new year, I received a hand-addressed envelope in the mail from Ray.
Having worked with Ray before on engineering projects, I was accustomed to receiving hand-written notes from him on my desk about the project at hand, often accompanied by drawings or a series of equations he had worked out on paper.  So I wasn't terribly surprised to open the envelope and find instructions and a couple of mock-ups (done by hand by Ray, of course) of the design.  And even though I wasn't surprised, I was still amazed by the time and attention Ray had already paid to this seemingly little project.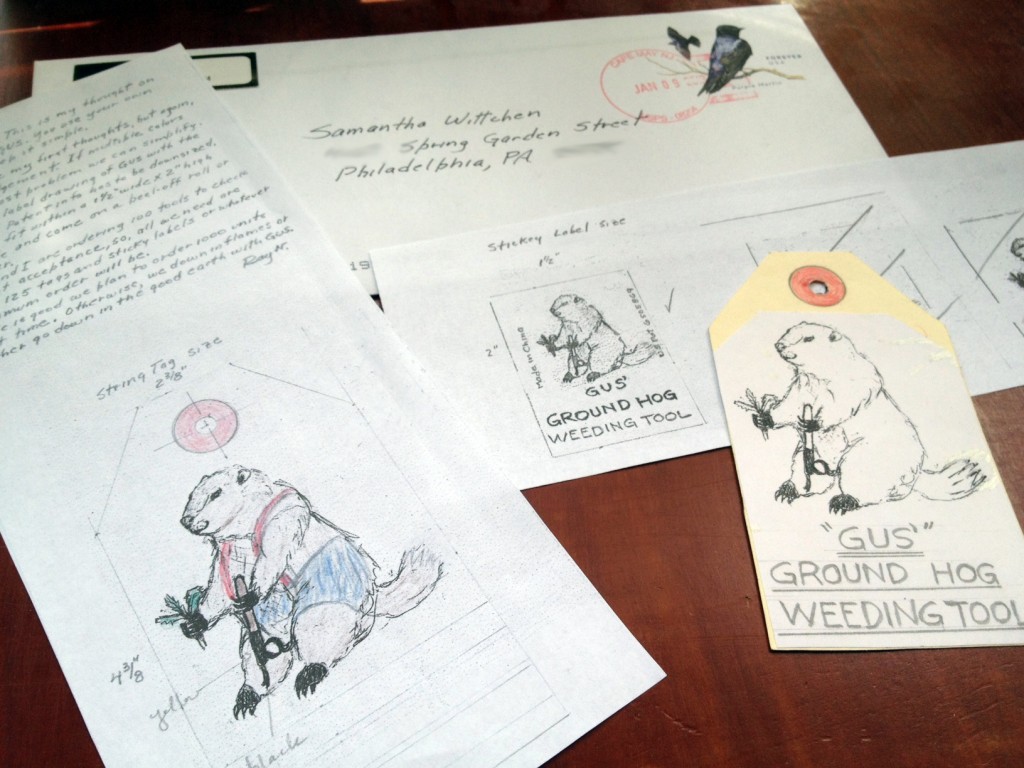 He had laid out (to scale) the tag and sticker, he had colored in Gus with the colors he wanted (including some jaunty shorts and suspenders), and he had even cut a piece of card stock to the size and shape he wanted to illustrate what the tag should look like.  The sheet with the sticker on it showed some attempted layouts that he had crossed out (presumably because he didn't like them as much), and the sheet with the tag included further instructions for "dressing up Gus" (Ray's words), which mostly amounted to using my judgment but "keeping it simple."
It's difficult for me to express exactly why I was so blown away by receiving this thoughtful package in the mail, but I think it really has to do with the fact that, in this digital age, handmade things like this are anathema.  We have computers to lay things out.  We have an endless supply of typefaces to choose from.  We can change colors with a click of a button.  All but gone are the days of using pen and paper as a starting point.  It's something that I think about a lot when I'm illustrating, and it's something that I'm naturally drawn to, having come from a fine art background.  And here was a client using the very same approach.  I guess the best way I can describe why I was so struck by it was that it warmed my heart.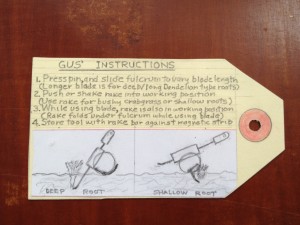 With my new instructions, I set forth to ink, scan and digitize Gus.  Ray had included on the backside of the tag a couple of schematics of how the tool worked (see left).  Ray and I had some phone conversations about the schematic, as well as whether the instructions would make sense to a non-engineer, and I turned his illustrations into a digital version (see below left).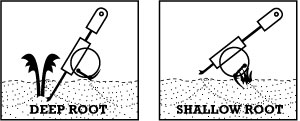 After a couple of mail correspondences where I would print out a version of the tag and sticker and send it to Ray with a hand-written note (because it only seemed right to do it that way), we settled on a final version (see below), I had them printed for Ray, and I sent him an invoice.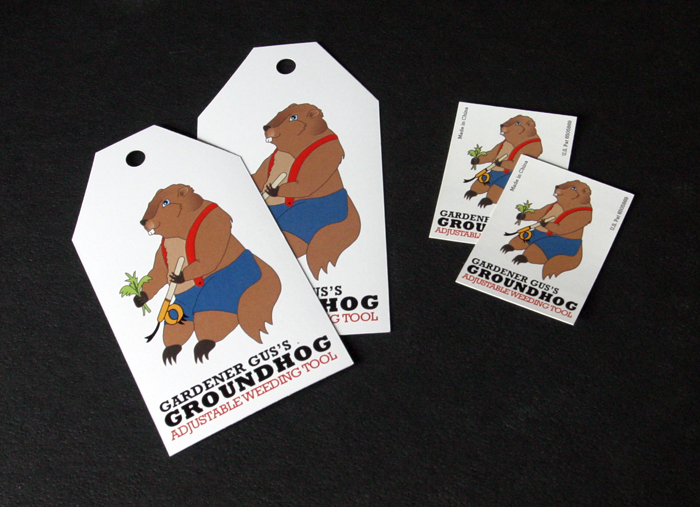 I soon received a very nice note (and a check) in the mail from Ray expressing his appreciation for my help on the project and letting me know that he has three–yes, three! Go, Ray!–other projects in the works that are geared towards the consumer market, so there may be more design work in the future.  Needless to say, I will be hanging on to my correspondence from Ray as a reminder of several things–the power of starting with pencil, the elegant simplicity of working by hand and of course, of Ray.  And I'll be looking forward to more analog work in this digital age.