At about 7 p.m. today, I had no idea what I was going to draw for this month's illustration.  I was having some serious creative block when I decided to try to get the juices flowing by thinking about things that made this month special.  One of the things that I particularly enjoyed doing this month was working on an illustration of an octopus for the same client who I recently did the logo work for that was featured in this previous post about logo design.  I'm actually a little unnaturally obsessed with cephalopods right now as a result of that illustration project, so I briefly considered doing another octopus for this month's illustration.  But then I thought that might be a bit of a cop-out.
Then I remembered that everyone on the planet (or at least on Facebook) has Olympic Fever right now.  What better subject for July than the Olympics!
Having been to the water park yesterday, I think I had water on the brain.  I have two cousins who were synchronized swimmers for many years, so it only seemed fitting to depict the sport in homage to the Olympics.  Plus, it had the added bonus that I could work in an octopus (or at least part of one).  So with that introduction, I give you July's illustration.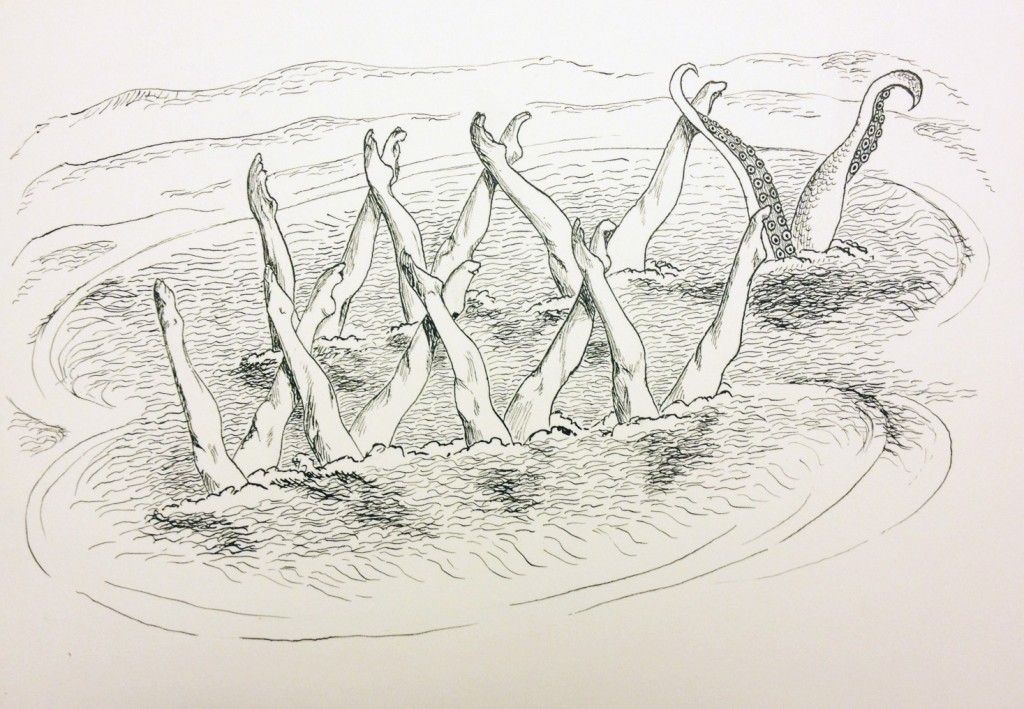 Enjoy the games, everyone!  And Sarah and Jenn, this month's dedicated to you.  May you never encounter an octopus with a penchant for synchronized swimming while you're in the pool.