I have a cat problem in my neighborhood.  Or rather, I have a human problem that has caused an abundance of feral cats in my neighborhood.  You see, my neighbor has set up a kind of a cat hotel on his front porch.  He doesn't do the responsible thing and make sure the cats are spayed or neutered, but he provides shelter and food for them.  As a result, we have a feral cat problem in my neighborhood.  They regularly defecate in my vegetable garden beds and my front yard.  It's not as bad as it was a couple of years ago, when the front of my house smelled like the barn I grew up down the street from, but believe you me, it's still bad.  Very bad.
I used to love cats.  I even subscribed to Cat Fancy magazine in middle school.  But now I have come to loathe them, and I am not the least bit sad when my German Shepherd catches one in the backyard.  Really.  I still like other people's cats (okay, except maybe Elsa, who's just plain ornery), but the feral cats need to go.
Tangentially related, I have launched a project for 2012.  Inspired by TubaDan's song-a-month project in 2011, I have decided to complete an illustration a month for 2012.  My plan is to do all the illustrations in pen and ink on high-quality watercolor paper.  I have managed to get the first month in just under the wire, and I feel like it needs a bit of explanation.  But first, here it is.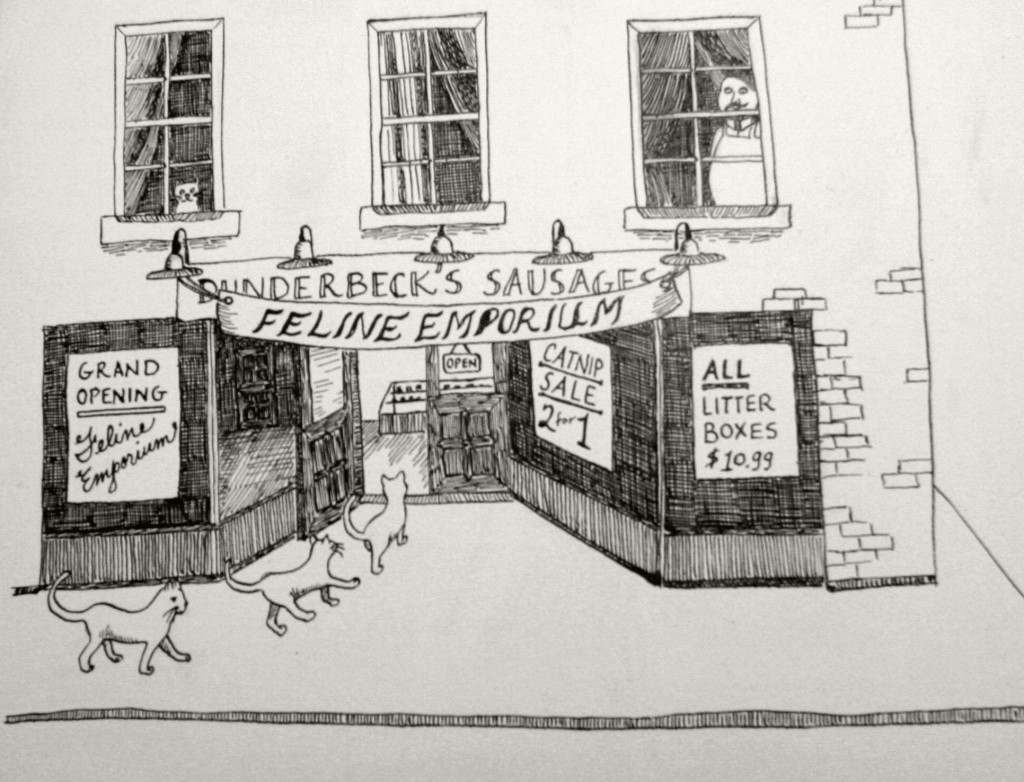 When I was a kid, we would often travel between our house in Bethlehem, PA and my grandparents' house just outside of Reading, PA.  As you can imagine, this hour-long trip is really boring for child, so my mom would frequently sing songs in the car to keep me amused.  One of my favorite songs centered around Mr. Dunderbeck, a portly butcher who had invented a sausage machine that produced some of the best sausage around to the detriment of the local quadruped population. Here are the lyrics (as I remember them):
There was a big fat Dutchman and his name was Dunderbeck.
He had the finest sausage meat and sauerkraut and speck.
He had the finest butcher shop that every would be seen.
And he wished to take a patent on his sausage meat machine.
CHORUS
Oh, Dunderbeck, oh, Dunderbeck, how could you be so mean?
To ever have invented the sausage meat machine.
Now all the dogs and pussycats will never more be seen,
for we'll grind them up for sausage meat in Dunderbeck's machine.
Oh, one day a little boy came walkin' in the store.
He wished to buy some sausage meat and eggs a half a score.
And while he was a'waitin', he whistled up a tune,
and the meat machine began to hop and dance around the room.
CHORUS
Oh, one day the meat machine, well it refused to go.
So Dunderbeck got in it, the reason for to know.
His wife she had a nightmare, was walkin' in her sleep,
and she gave the crank a hell of a yank and Dunderbeck was meat.
CHORUS
In hindsight, it's kind of a gruesome story, but I loved the song.  So I decided to illustrate it.  I've been reading this great book, Floating Worlds: The Letters of Edward Gorey and Peter F. Neumeyer.  It's quite amazing.  I'm a big Edward Gorey fan, ever since I read the pop-up book,The Dwindling Party (now out of print), as a child.  I've been very inspired by how prolific he was, as well as how much he let his art spill over into his everyday life, illustrating numerous envelopes and other ephemera to friends and family members.  So as I'm sure you'll notice, this illustration is quite Goreyesque.  (However, as he was very fond of cats, I doubt the subject of any illustration of his would depict a gruesome fate for the feline set.)
Given my current frustration with the cats in my neighborhood, this seemed a fitting subject for January.  Check back next month for the next installment of Illustrate 2012.