Last October, I got married.  Like a lot of stuff in our lives, my fiancé–now husband–and I didn't want to do things like everyone else.  Specifically, we didn't want to feed into the wedding-industrial complex that says you need to buy, buy, buy and spend, spend, spend for an event that represents only several hours–albeit several wonderfully amazing hours–of your life.  It's a racket, really.  So we set to work crafting a wedding that was about us and not stuff.  As you might expect, this meant making a whole lot of things for the wedding, often from reclaimed/reused items.
While we were planning the wedding, a number of people commented that I should be blogging about all the stuff we were doing to make our wedding as sustainable as possible, so that other people could see how it can be done and be inspired to do the same.  The problem was that, while that sounded great in theory, I really didn't have a whole lot of extra time to be doing something like that because, well, you know, I was planning a wedding.  So instead, I figured I'd save it all up until some later date to share with the world.  That day has come.  I invite you to take a little trip down recent-memory lane with me and see how we put together a handmade wedding that was about us–not stuff.  (Fair Warning: This post is a little long, so if weddings aren't your thing, you might want to stop right here.  And if you don't want the details but like wedding eye candy, you can just scroll through the pictures.)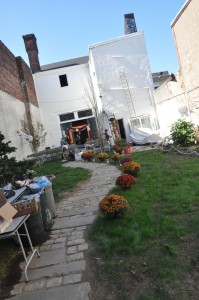 Let's start with the venue.  Finding a venue was both tricky and exceedingly easy for us.  Since we knew we wanted to do things a certain way, which included choosing our own sustainable caterer and providing out own locally-produced alcohol, a lot of the traditional places were immediately out of the question.  This meant we had to do a little more research on our own for non-traditional venues.  Thanks to PhillySpaceFinder, we were turned on toThe 5th Side, an amazing converted brewery turned soap and candle company turned coppersmith shop turned trolley repair shop turned performance venue.  When we went to see the space, it was still very much under construction, and it was packed to the gills with all sorts of junk, some of which was still left over from the previous owners.  But were we going to be able to choose our own caterer?  Check.  Could we bring our own alcohol?  Check.  Was there a firepit?  Check.  Was it reasonably priced?  Check.  Plus, the building itself was recycled, in a manner of speaking.  It was the only place we visited, and we decided it was perfect.
Next was the caterer.  We had a small budget, but we knew we wanted the food to be local and seasonal, and since we wanted to make our reception zero-waste, we needed to find a caterer who was open to recycling and composting.  The local, seasonal, and composting requirements substantially limit your options, but for someone who struggles with decisions when there are too many options (that's me), this turned out to be a blessing in disguise.  And luckily, the fall is just about the perfect time to have a local, seasonal wedding because of the bounty of food that's in season.  Additionally, we wanted the flexibility to ask our guests to bring pie (instead of having wedding cake), and some caterers get upset about not being able to control all aspects of the event.  In the end, there was only one caterer that met all of our wacky requirements (and budget), so we went with Cosmic Catering.  (They were awesome.)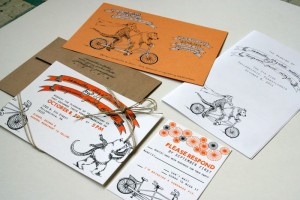 And then there were the save-the-dates and invitations.  We debated the merits of doing everything electronically, but in the end, we went with printed pieces because (1) I wanted to make them and (2) it seems like people just aren't so great with responding to electronic invitations these days.  You may have already seen them on this site, but here they are again (with the wedding program added in).  I had these printed by a local screenprinter, Sire Press, and they were printed on French Paper, which is produced using 100% hydroelectric power.  The Save-the-Dates and RSVP cards were postcards to minimize paper usage, and the envelope was made out of 100% post-consumer paper.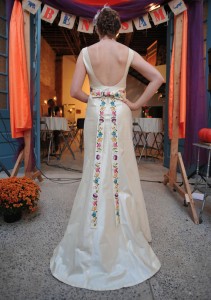 The thought of dress shopping made me somewhat ill because (1) they're overpriced, (2) the people at the dress stores try to make it seem like this is one of the most important decisions of your life (it's not), (3) after a while, all the dresses start to look the same and (4) I really dislike strapless dresses.  (Say it with me, people:  "Most people do not look good in strapless dresses.")  I went once to try on dresses and decided that I either needed to find a good seamstress or start looking for something handmade/vintage on Etsy.  And then I remembered that I have a mother.  Thankfully, she decided that she was up to the challenge, including figuring out how to work in a swath of fabric we would remove from her own wedding dress that had been hand-embroidered by my late grandmother.  We got the fabric from the Garment District in NYC, and the dress ended up being perfect.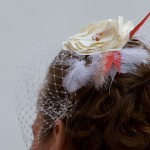 I made my own veil out of french netting and crafted a fascinator from leftover dress fabric and some feathers.  For Ben's part, he used one of his dad's old three-piece suits that had just been hanging out in the attic, and he borrowed a bowtie from high school friend.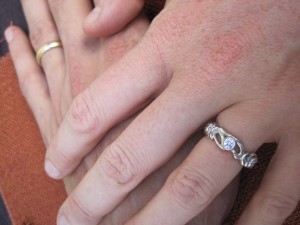 When it came to ring shopping, I felt just about the same I did with dress shopping.  Luckily, we have Bario-Neal here in Philadelphia.  They use reclaimed metals and ethically sourced gemstones in all the jewelry they create, and they're just great people.  I had heirloom diamonds that I wanted to incorporate into my band, and I loved the idea that they would make my band out of reclaimed metal.  Ben actually had his great-grandfather's wedding ring, so in the end, we both ended up with recycled rings.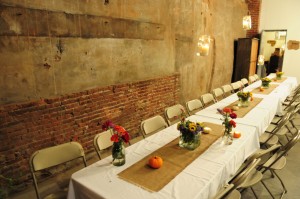 The largest amount of crafting was related to the actual event.  We spent the month leading up to the wedding collecting all sorts of stuff from friends, yard sales, the trash, and The Resource Exchange.  This is where it helps that neither my fiancé nor I work a 9-5 job.  (Although I suppose if we did, we would've just started all of this sooner.  Maybe?)  I made tablecloths and table runners, amassed mason jars for vases and lighting, collected lounge furniture from friends, made hanging decorations with friends, filled the (recycled and hand-printed) favor bags with tea, created the wedding certificate, and bought tons of pumpkins and gourds from a local farm.  Ben picked up several carloads of chrysanthemums for free from Habitat for Humanity's ReStore and built our lovely wedding arbor (shown below).  Friends and family built the firepit, helped make signage from recycled cardboard, donated gin from a local distillery for the gimlets, made us a sweet wedding banner (also shown below with the arbor), volunteered to provide the music, and made pies.
Some pictures of various stuff we made follow. I'm most proud of the wedding certificate, which I did with watercolors and pen and ink.  It was signed by all of the guests, making it such a wonderful document to help us remember the day.  And, yes, you caught me–that last photo doesn't really feature anything in it that we made (unless you count the bouquet and boutonniere), but it's one of my absolute favorites from the wedding.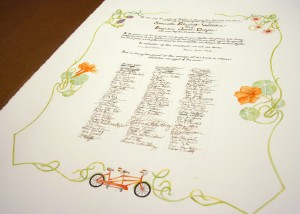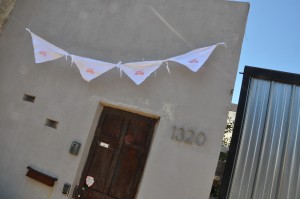 It might require doing things differently to plan a wedding outside of the wedding-industrial complex, but I'm here to tell you that it can be done, and it's so worth it.  If someone asked me today if I'd do it all over again the same way, I would enthusiastically say yes.  We didn't have to go into debt to get married.  We didn't have to compromise our values to throw a good party.  Our wedding ended up being about us.  And after all, isn't that what it should all be about?