Happy New Year, everyone!  It is with great joy that I share my final project of 2013, completed just in time to wear for the New Year's Eve soiree chez Wittzler.  I was really dubious about finishing this project in December, but with the exception of a belt loop (more on that later), I did it!  As the culmination of all my learnings as a seamstress this past year, I decided to tackle the most complicated clothes project I've tackled yet–a pair of fitted pants.  I hoped to complete them in time to have something special to wear for New Year's, but when it came to be December 22nd, and I was only just cutting out the material, I wasn't so certain that I'd finish them in 2013.
I had bought some fantastic blue and silver material months ago at The Resource Exchange, intending to make a winter weight pencil skirt out of it.  (A quick digression: if you haven't heard already, The Resource Exchange is moving to a new, more convenient location in Kensington at the end of January.  I am super excited about this, as it'll be close to public transit and Frankford Avenue.  It is exciting news, indeed, and you can read more about it on Generocity.)  I haven't made the skirt yet, but it occurred to me that the same material would work great for a pair of holiday pants, so I settled on making them my December project.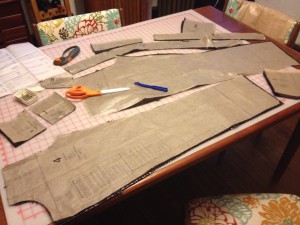 I found this great Vogue pattern (#8774 for those of you who are interested) for a pair of jeans over the summer during one of those great pattern sales that Joann has from time to time where every Vogue pattern is $3.99.  This is especially good when the full price for the pattern is $25, as it was for this one.  The level for this one was "Average" difficulty, which we all know from my previous post about Vogue patterns really means that it's "Above Average" difficulty.  I was a little intimidated by it to begin with, and once I cut it out, I was even more intimidated by the number of pieces there were!
However, once I got to putting it together, I discovered that the pattern instructions were very clear and easy to follow.  I don't know this for sure, but I suspect that clarity of instruction is one of the things you get for that $25 pattern price tag.  I had found this to be the case with September's sewing project, too, which also used a Vogue pattern.
After sewing the front pockets, the first thing the pattern had you do was make the fly.  I've never made a fly before, so I had no idea what to expect, but I can tell you that it was much easier than I anticipated.  The pattern said to use some sort of cotton lining material to create seam binding for the fly, but I had some leftover green lining material from August's project, so I just used that instead.  (I also used it for the pockets.)  I thought it added a nice little contrast that only I know is there.  The fly turned out pretty well–it lays flat when I wear the pants, so I think that's a success?–and you can see it in the photos below from both the outside and the inside (and the pretty green seam binding).  The only part that was kind of a pain turned out to be the topstitching.  It turns out that it's kind of difficult to topstitch two curved lines exactly the same distance from one another throughout the curve.  Luckily, the topstitching doesn't stand out all that much from the silver in the fabric, so you can't really see it.  Phew.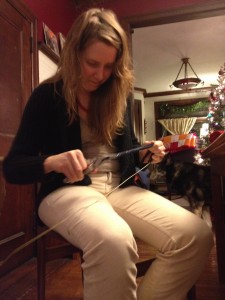 Next I had to make the belt loops. (Or carriers, as the pattern called them and I assume they're called in "the biz"–I feel so in-the-know now!)  This may have been the biggest pain in the ass of the project.  Have you ever tried to turn a small tube of thick material inside out?  I'd rather clean the disgusting glob of hair and soap residue out of my shower drain, and I HATE doing that.  Really.  It took about an hour and ultimately, the aid of a needle-nose pliers and wire coat hanger to do the job.  (Thank you to my MacGyver husband for the suggestion of appropriate tools!)  Seriously, though, it sucked.  On the right you can see me fighting with the tube of fabric.  Ultimately, I won.  Sam: 1, Carriers: 0.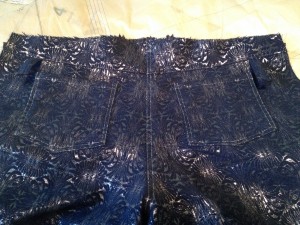 Next up was sewing on the back pockets and yoke.  The side back belt loops got sewn on at the same time as the yoke.  If you look closely, you can see them.  Only the bottom part of the loops are attached – the top has to wait for the waistband to be attached.  This whole part of the process was pretty straightforward, and at this point, I have to say that I was getting pretty giddy about the whole thing.  It was really starting to look like I was going to have a new pair of pants!
The final steps were to sew the front and back of the pants together and attach the waistband.  Once I sewed the front and back together, I started to get a little nervous because it seemed like the pants might be too small, both in circumference and length.  I had decided to make the size smaller than my measurements because, as with July's dress project, when I read the finished sizes printed on the pattern pieces, it appeared that the pants were going to be several inches too big, and I sure didn't want to have to take them in after all was said and done.  It seemed like they would still be long enough based on the printed sizes, although I frequently have length problems, so I probably should have allowed some extra fabric in the legs just to be on the safe side.  I tried not to get too worried by telling myself that it would be okay once I put the waistband on.
So I attached the waistband and tried them on.  They felt short to me and a little tight through the hips.  However, they didn't seem to be pulling through the hips, so I thought that maybe I was just expecting something different as far as fit was concerned.  The pockets did some weird things to my hips, making them look a smidge lumpy, but I do have one hip that's larger than the other thanks to an ultimate frisbee injury from years ago, and there's not much I can do about that.  So I decided to put the belt loops on and try the pants on with a belt to see if that would help how they fit.
As I was about to attach the last belt loop, my sewing machine decided to stop working properly.  It appeared that the needle was out of alignment with the hole in the throat plate.  At this point, I was so ready to be done with the project (they all seem to reach that point, don't they?) that I just said "the hell with it" and decided to deal with the missing belt loop later.  (It may just be a matter of changing the needle, which appears to be bent.)  I sewed the hook and eye closure above the fly and hemmed the pants by hand.  And they looked pretty darn good.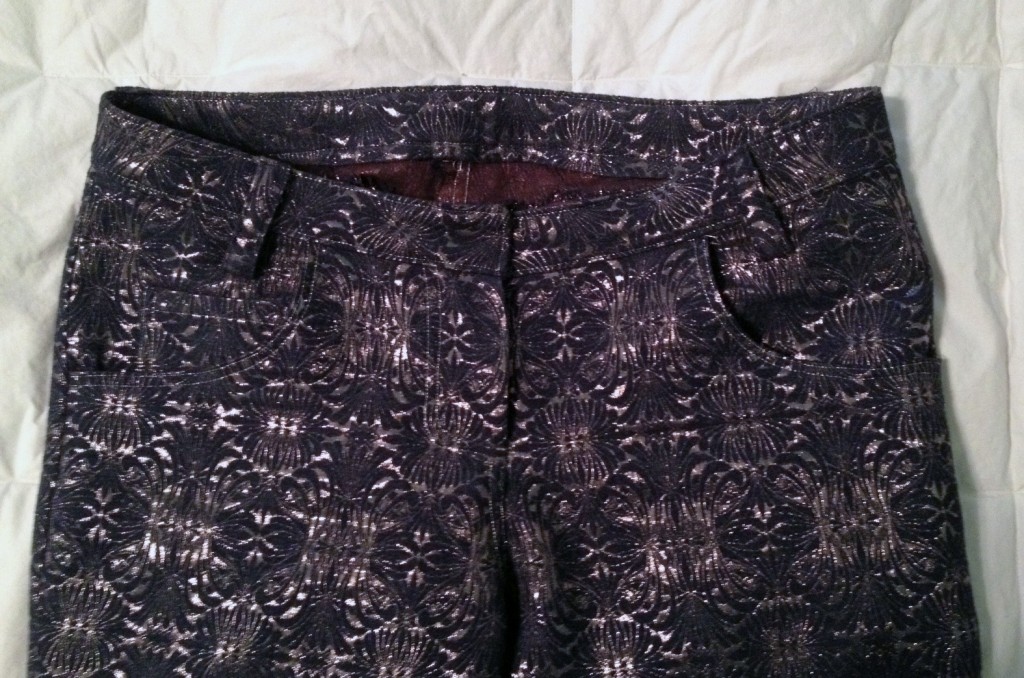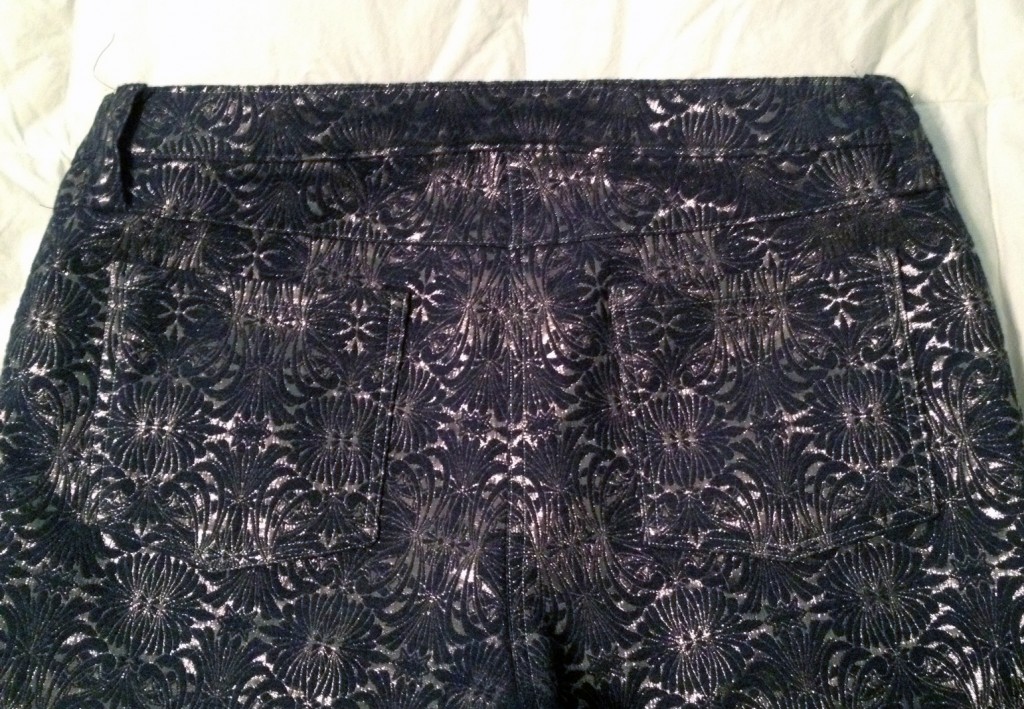 Of course, the moment of truth was trying them on.  I was conflicted.  They were pretty close to perfect, but they still felt a little short to me, even though I had barely put a hem in them.  And the hips still felt a little tight.  But I figured that, as with most pants like this, they would probably stretch a bit over time, and I'd be happy to have made them the size smaller.  Plus, it was 6 p.m. on New Year's Eve, and I had company coming at 8, so I thought it best to just put them on with a sparkly top and be done with it.
And you know what?  I was right!  By the end of the evening, the hips felt just about the way I thought they should.  And I think I'm even okay with the length.  Ben pointed out that I often wear my pants long, but the style of these seemed to be better a little shorter, especially since I'm likely to wear them tucked into boots or with fabulous heels that you'll want to see anyway.  And when I tried them with my flats to take photos of the finished product below (please don't just me for the halfway stripped trim next to the door), I even liked that, too.
So here they are, my New Year's pants. (Shown with the awesome new red sweater my sister got me for Christmas and including a butt shot because who doesn't like a butt shot?)  When you're starting out the new year with pants like these, it's gotta be good, right?