This past weekend, I participated in the Trenton Avenue Arts Festival.  It was an experimental endeavor, for sure, and my friend and fellow artist, Beth Nentwig, agreed to participate in the experiment with me.  My mom also contributed some very cool bracelets that she's been making for the last several months.  From a sales perspective, the event was an abject failure.  I sold nothing.  Not one thing.  Not even a single hand-printed linocut card.  Needless to say, it was disheartening.
In the 24 hours following the event, as I reflected on the festival, I figured I had a couple of ways to approach it.  I could take the defeatist approach:  "This is proof that the things I make have no value, and therefore I should just give up making them and trying to sell them."  But that's not really my style.  Plus, one data point hardly seems like enough to draw conclusions about the value of one's work or whether exhibiting at future art festivals has value.  I could make excuses (some of which might even be valid):  "The festival goers were cheap.  The rain kept people from making last-minute purchases.  The audience wasn't right."  That might make me feel a little better about myself, but it really doesn't prepare me for future sales endeavors.  And it's not really my style, either.
So instead, I settled on thinking about three things: defining who my customer is, figuring out how to reach that customer, and determining whether it's worth my time and effort to do the latter.  I feel like I'm still in the process of figuring all three of these things out, but this feels like a much more productive exercise than either of the first two approaches.  First, it better prepares me for participating in future arts festivals, and second, it helps me ensure I'm not wasting my time.
I think this is an approach that artists (and I use that term broadly, encompassing visual artists, writers, musicians, etc.) across the board don't take nearly enough.  Of course, it's much easier to take either of the first two approaches when something doesn't go according to plan.  It's easy to make excuses, and it's easy to get discouraged.  The third approach requires some introspective thinking (and possibly some market research) around where one's art fits into the larger artistic–or maybe even less glamorously, consumer–landscape.  The successful artists have found a niche to fill–a customer to sell to–and they do it in a way that makes it worth their time to produce the art.  This, of course, is the delicate balancing act of being a successful artist–producing work that's true to you and quenches your artistic thirst while simultaneously appealing to someone else–someone else who will pay you for your work.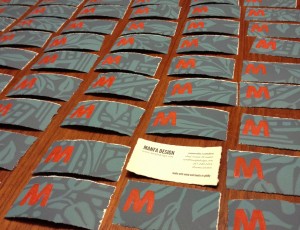 The silver lining to all of this is that I finally got around to making some business cards for Manfa Design, which I've been meaning to do for quite some time.  I'm pretty excited about them.  They're printed on reclaimed wallpaper and feature a hand-printed M on the back of them.
I also have some inventory now, which is nice.  As part of trying to figure out who my customer is and how to reach them, I'm re-evaluating what I'm going to do with that inventory.  I'd been previously putting it up on Etsy, but I'm starting to come to the conclusion that Etsy is a crowded space, and while it's still a destination for a lot of people, I may do better by selling from my own website and not having to fight with all the rest of the handmade noise to get heard.  Of course, this will require that I do the work of getting people to my website, but it might be worth it.
And lest I miss an opportunity to share with you some of the stuff I made, here's a sampling of some of the stuff I now have on hand, ready to be purchased by some discerning customer and/or lover of all things handmade from reclaimed materials.  (Maybe that's you!)  If you're interested in anything you see, drop me a line, and we can work out a way for me to get it to you.
Handprinted Notecards
1 for $2 | 3 for $5 | 5 for $8 | 10 for $13
Griffin Thank-You Linocut Notecards (5″ x 7″) – 100% recycled paper with coordinating envelope (5 of each color available)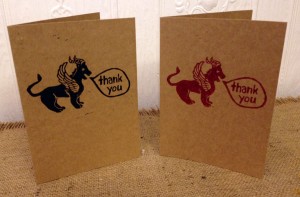 Green Tandem Bicycle with Gold Background Linocut Notecards (5″ x 7″) – 100% recycled paper with coordinating envelope (10 available)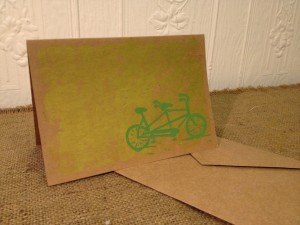 Orange Tandem Bicycle Notecards (4″ x 5.5″) – 100% recycled paper with coordinating envelopes (10 pack only)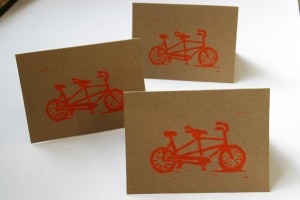 Rustic Home Accessories
Reclaimed Wood Timber Candleholder – $13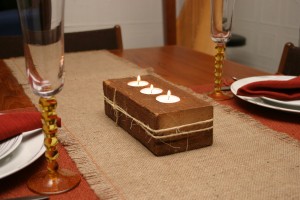 Mason Jar Wall Sconce – $20 each or 2 for $35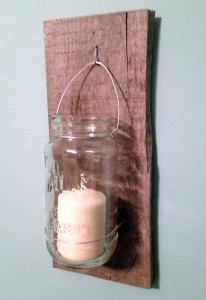 Personal Accessories from Reclaimed Materials
Anthropologie-inspired Reclaimed Thread Bead Necklace – $15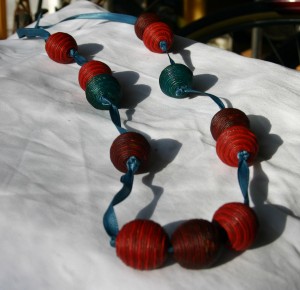 Reclaimed Burnt-out Velvet Pouch (perfect size for cell phone!) – $20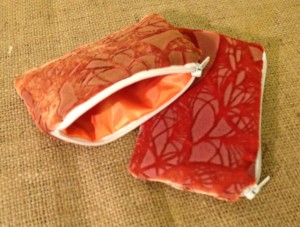 Upcycled Upholstery Sample Business Card Case – $12 (See more about these in my first Sewing Sunday post.)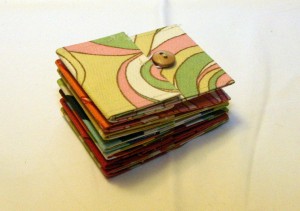 Thanks for looking, and stay tuned for more on my adventures in arts festivals!