I've been meaning to write this post for at least six months, but many things have conspired against me, not least of which is that I was busy growing a tiny human in my uterus.  I'm thrilled to share that we welcomed said tiny human to the world a little over two weeks ago, and while the last two weeks have been filled with lots of diaper changes, breastfeeding sessions and staring endlessly at the tiny human that still confounds me how she came out of my body, I'm finding that I do actually have a decent amount of down time.  It's just broken up into insanely short chunks.  It's not ideal for getting any real work done (as evidenced by the fact that I actually started this post four days ago and just got around to finishing it now), but it does afford me time to do things like read and write for very short periods at a time.
So I'm finally able to share a project that I completed last fall–my new office desk!
For years, I've wanted a nice, big, flat surface in my workspace–one that would double as a place I could do art projects and cut fabric and spread my stuff out on.  My office in the old house couldn't really accommodate such a desk, but the office in the new house has ample space, so I figured it was time to upgrade my desk situation.
I really liked the look and functionality of counter-height industrial desks and workstations I've seen at vintage stores and online, but they're almost always quite expensive, especially if they're in good condition.  So it seemed like making one for myself would be a worthwhile project.  Ben replaced a bunch of joists in the basement of the house, and I'd been asking him to hang onto them because they're hemlock (we think), and they seemed useful for something, although when I asked him to start saving them, I wasn't exactly sure what I'd use them for.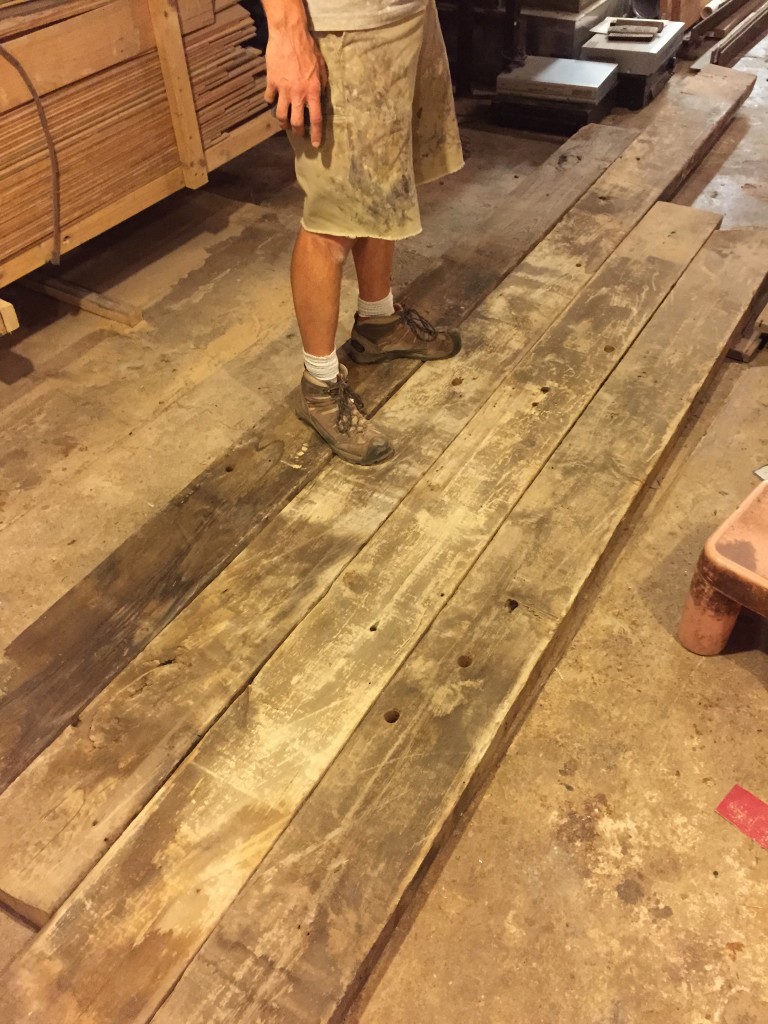 And then, voilà, I needed to make a desk!  So I went wood shopping in the basement.  (It's pretty sweet when you can do that.)  With Ben's help, I picked out the boards that looked the best, were the least warped and had the fewest holes.  So that meant the work surface was sorted, but what about the legs?
As luck would have it, we had been at the now-closed (cue uncontrollable sobbing) Fishtown vintage shop Catch and Release (thankfully, the store is still online), and in chatting with one of the owners about my planned desk project, he mentioned that he might have some suitable legs hanging out in his basement.  After a five-minute subterranean trip, he returned with a pair of perfect (adjustable!) steel legs.  It was clearly meant to be.  I also picked up a fantastic industrial stool from them that day (pictured below with the legs).  It was a good day.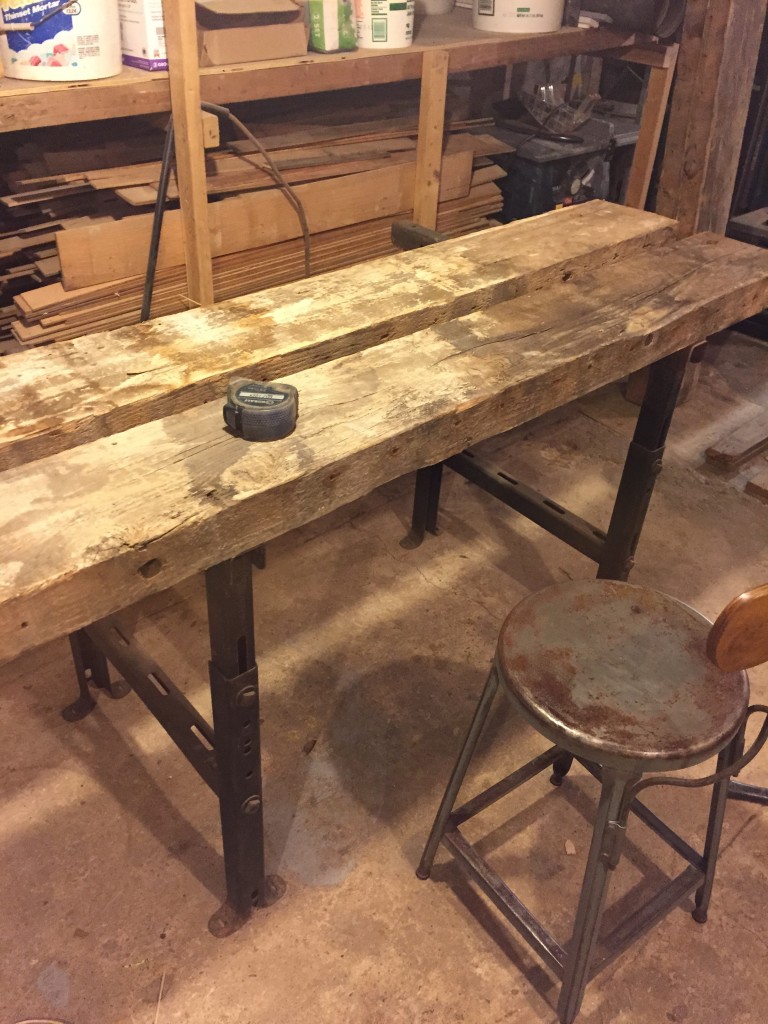 I then had a decision to make.  Do I use the joists mostly as-is?  (That is, rough and semi-painted.)  Or do I go through the process of planing and jointing the boards to make a smooth surface?  After consulting with my go-to woodworking guru, Mike Darfler, who formerly ran the now-shuttered Department of Making + Doing (again, cue uncontrollable sobbing), I was convinced to go to the trouble of embarking on the most advanced woodworking project I had tackled to-date.  Luckily, DM+D was still in operation at the time, so I had access to the tools I needed to make it happen.
I enlisted Ben's help to run the boards through the planer and jointer.  Even though we had chosen the least warped boards, it still took what felt like an absurd amount of passes through each machine to get them square and smooth.
One of the great things about DM+D (besides the people and the tools) was that there was plenty of space to work.  This proved really useful when it came to gluing and clamping the boards.  Plus, I could leave it there overnight while the glue dried and did its bonding thing.
The next day, it was well-glued, but it needed some hand-planing to smooth out the joints where the joists met.  Hand planing is pretty satisfying, you guys.  And…you get these super cute curlicues in the process.  In my next life, I'm going to find a use for all those curlicues.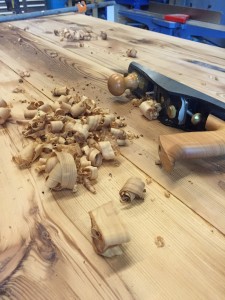 I decided to take the desktop home to do the finish work so that it wouldn't take up all that space in the workshop at DM+D.  The only things left to do were sanding the top and oiling it.  I had contemplated various finishing methods, but again, Mike had a great recommendation, Tried and True Original Wood Finish.  It's a blend of linseed oil and beeswax, it's environmentally friendly, and it's made in PA!  What more could you ask for?
Over Labor Day weekend, I set up the desktop in the backyard, got out the trusty palm sander and went to town.  It was looking pretty good after sanding it (I did several passes and finished up with 220 grit sandpaper.  See left photo below.), but the finish really brought out the grain (see right photo), especially around the big-ass knot that I really love.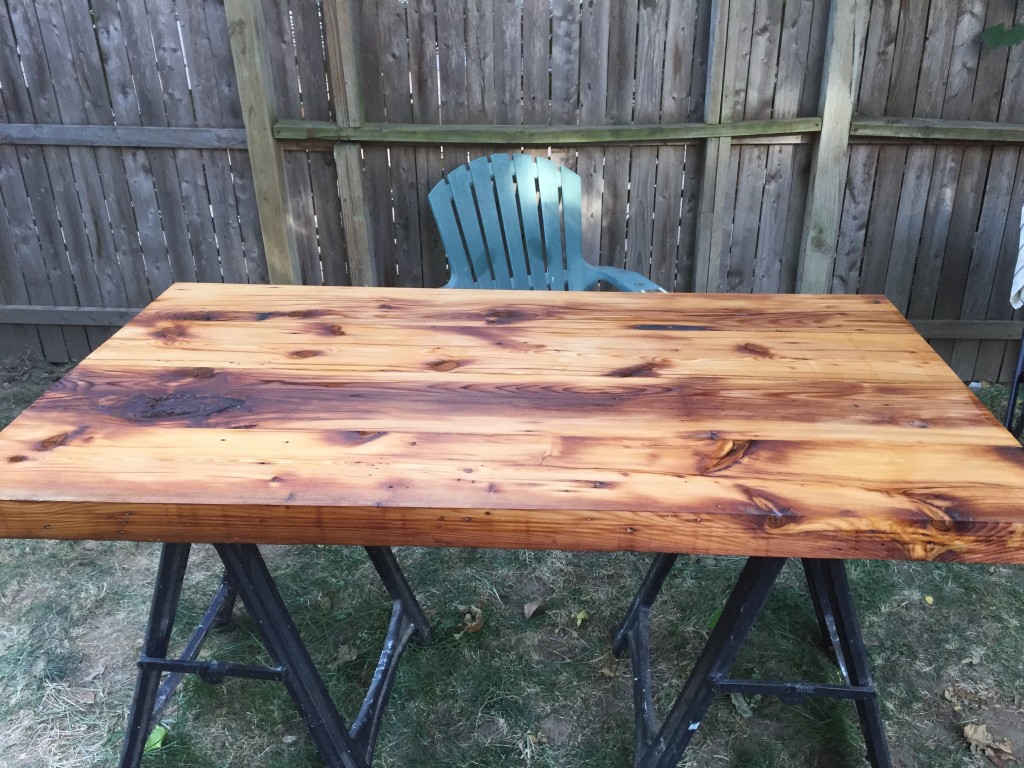 Ben estimates the finished desktop weighs somewhere around 150 pounds.  Since I was almost two months pregnant by the time I completed this and was told I should lay off lifting heavy things, we had to wait until we could conscript a friend who came to visit us into helping Ben move the thing up to the office. (By the way, I paid attention to that recommendation for about a minute, decided it was ridiculous, and then went back to helping Ben move things like the crazy heavy crib our friends gave us up to the third floor.)
Ben attached the legs, and I finally had a new desk!  (And there was much rejoicing.)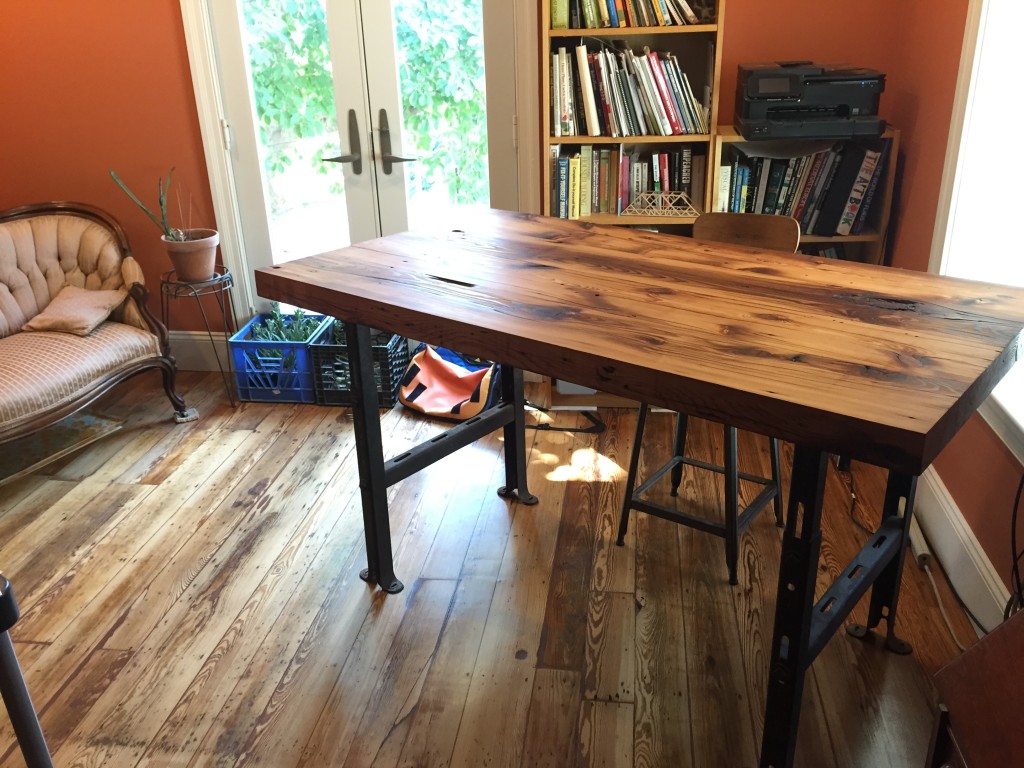 She's a beaut, ain't she?  Seriously, though, the desk has been working out great on a daily basis, but I've been extra excited to have it over the last couple of months when I was cutting yards and yards of fabric to make curtains for multiple rooms in our house before the little one arrived.  I couldn't be happier with how this all turned out.  It's nice when things work out that way.